Tools for Precision in Lighting : Spotlight Accessories
Spotlights constitute an integral part of any lighting design application. They have been used widely in numerous applications because of their flexibility to adapt to ever changing lighting requirements. Be it museums or art galleries, hotel lobbies or residences – spotlights are the ideal solution to highlight the artwork in the most dramatic way. Spotlights, both with conventional light sources and the LEDs, come with numerous optical accessories to adapt to variable lighting applications as well as glare control. Most common of these are enlisted below:
a) Louvers
Glare from any kind of luminaire is unwanted and distracting. It causes discomfort and diverts the attention from the subject – the objects on display, the surfaces being highlighted.
The accessories to control glare include:
1) HoneyComb
2) Ring Louver
3) Cross Louver
4) Barn Doors

These ensure efficient glare control without reducing the optical performance of the spotlight
b) Lenses
A variety of available lenses provide beam shaping abilities to the spotlight which can be critical to  real world applications. These systems of lenses can be added on the the spotlights to change the inherent optical characteristics of the fixture, in addition to the glare control accessories, to get the desired effect. These include:
1) Softening Lens :  Used to diffuse or soften the harsh beam and reduces the shadows
2) Elliptical Beam Lens : When used with narrow beam projector it creates an elliptical light cone and can be rotated as the situation demands
3) Asymmetrical Lens Attachment : Also called wall-washer accessory, it elongates the beam vertically while softening it at the same time.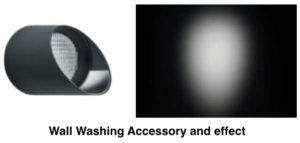 c) Filters
Filters change the inherent colour characteristics of the light source of the spotlight which might be required for specialised applications. Use of these might decrease the lumen output of the fixture drastically due to losses.These are classified as:
1) CCT Conversion Filters : They change the colour temperature of the spotlight. These come in standard versions of 3000K, 4000K only
2) Colour Filters: Used to convert the colour of light from the fixture to vibrant colours – blue, red, amber etc.
d) Dimmers
Most of the sophisticated spotlights are equipped with on-board dimmers which can vary the light output from the fixture as the situation demands. An extension to these are the DALI enabled spotlights having the addressability feature for each spotlight to be controlled individually and from a remote location.
The availability of these accessories varies with each product from different manufacturers. However, it is important to understand the use of these accessories for each application, which might be a key factor in selection of the right product. Having evolved from theatrical lighting systems, spotlights provide immense lighting possibilities clubbed with accessories if chosen properly.