Lux-n-Lum is an online resource created specifically for growing community interested in lighting applications, design and light art. Here we showcase the latest trends in lighting technology, revolutionary products and innovative design projects. A section has been dedicated solely to established as well as upcoming designers which highlights their works & details.
Our aim is to become a complete lighting resource for our readers covering all the possible aspects of lighting industry.
Lux-n-Lum provides immense possibilities for advertising & marketing your brand, products & services to relevant target audience across all geographies mainly – lighting designers, architects, interior designers, electrical consultants, light artists as well as lighting professionals and consumers.
Our advertising solutions includes various options to choose from to select the right online campaign to fit your goals and budget.
Display Ads
Our banners are positioned on highly visible and prominent spaces. Static jpg banners, GIFs and Videos are accepted within specified dimensions at locations as given below: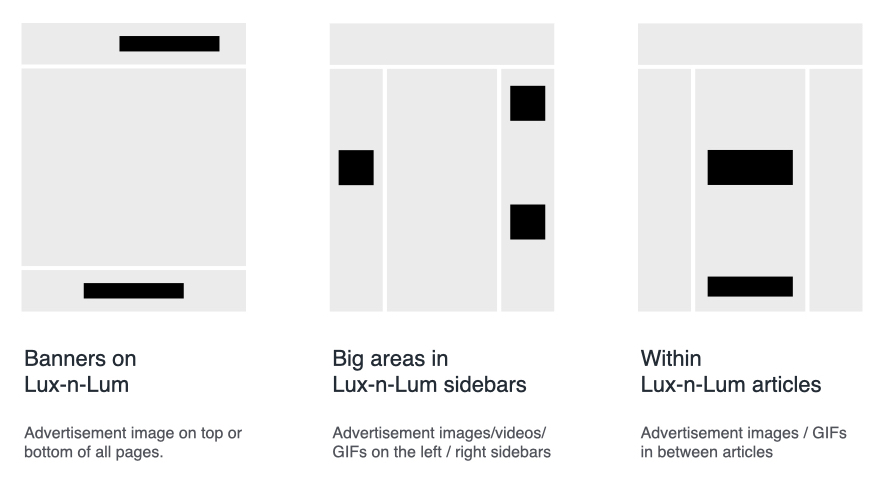 Advertorials
Your advertorials will be published on our main page and will be categorised under relevant headings / tags where most of our readers come here to view and search. Also it can be included in our eNewsletter which is sent to periodically to our audience. The specifications of these are given below:
Sponsored articles / posts
eNewsletter advertorial
To advertise with Lux-n-Lum, contact us at [email protected]