Edge Lit Technology: Masterpieces from FLOS, Italy
In this age where health and fitness is on top of the list of the most of people, FLOS, a celebrated manufacturer from Italy has raised the bar and has created masterpieces with Edge Lit technology which are literally "size zero". These lighting fixtures not only look their best as most of Flos' creations but even perform fairly good on technical parameters. Here, we discuss the edge lit technology and the creations from FLOS.
Edge Lit technology involves essentially a PMMA acrylic panel, which is extremely transparent and highly durable. The panel is etched with a matrix (often a propriety design) of dots or lines or a combination of both. As the light hits the pattern, it is refracted to the surface illuminating it uniformly.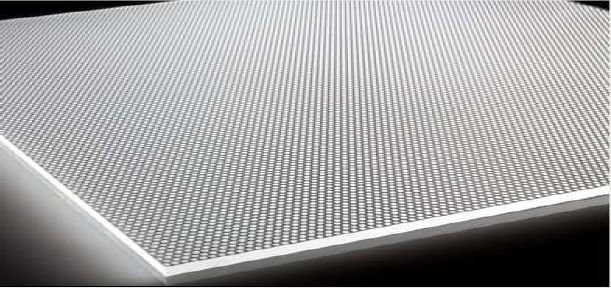 The major advantages of this technology are
Sleek fixture design
Uniformly lit surfaces
High efficiency and
Ability to design with various forms and shapes, not possible with conventional light sources.
Of course, the design of the matrix and the choice of the materials are the most important parameters of making world class designer luminaries which FLOS has mastered.
FLOS OK designed by Konstantin Grcic, 2014
Inspired from the original Parentesi lamp from FLOS this modern pendant is designed in the most beautiful and simplistic way. Head in gloss varnished or chromed die-cast aluminium. It comprises of a die cast aluminium directional head with cover available in various colours fitted with single side emission Edge lit panel. FLOS OK can be moved vertically by running the internal structure of the body on a steel cable tensioned between the ceiling and the floor.
EDGE LIGHTING TECHNOLOGY – 2700K – 1638lm – CRI85 – 18W Finish : White / Black / Yellow / Chrome
FLOS Superloon designed by Jasper Morrison, 2015 
A ring of LEDs send light sideways into the edge of a flat disc of translucent white material. A gyroscopic axis allows the light to be directed in infinite directions, while the light can be adjusted in intensity – and temperature – from warm to very warm. Ideal as an ambient light or reading lamp. Optical switch sensor placed on the stem that provide Warm Tone dimming function.
EDGE LIGHTING TECHNOLOGY 2200-2800K 4000lm CRI80 – 45W Finish : White / Black / Chrome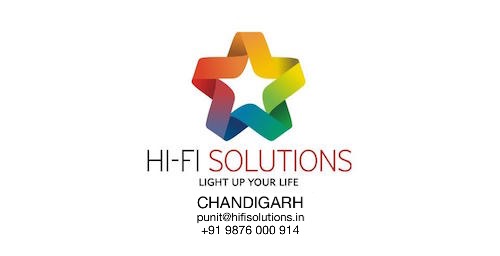 FLOS Kelvin Edge designed by Antonio Citterio, 2015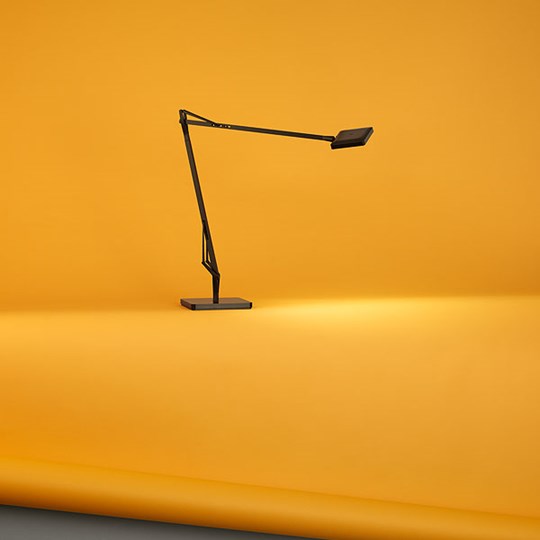 Miniaturised table lamp from its predecessor, upgraded in technology oozes minimalism from core. Edge Lighting technology light source in die-cast head with Optical sensor switch to provide 3 step dimming and color temperature adjustment. Available in White, black, titanium and chrome finish.
EDGE LIGHTING Technology 2700/3200K 300lm CRI90 8W
FLOS Bon Jour designed by Philippe Starck, 2015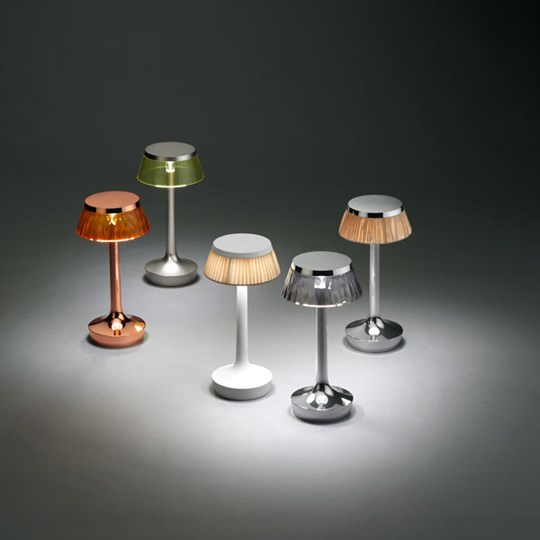 The timeless elegance of high-technology dematerialization. Available in wired and chargeable versions (BonJour unplugged) with 6 hrs battery life. Transparent base can be customised with a variety of interchangeable finishings and materials, expressing personal taste – white , chrome, copper and matt chrome.
EDGE LIGHTING TECHNOLOGY 2700K CRI90 900lm 13W Dimmer /  250lm 6W
FLOS Superflat by FLOS Architectural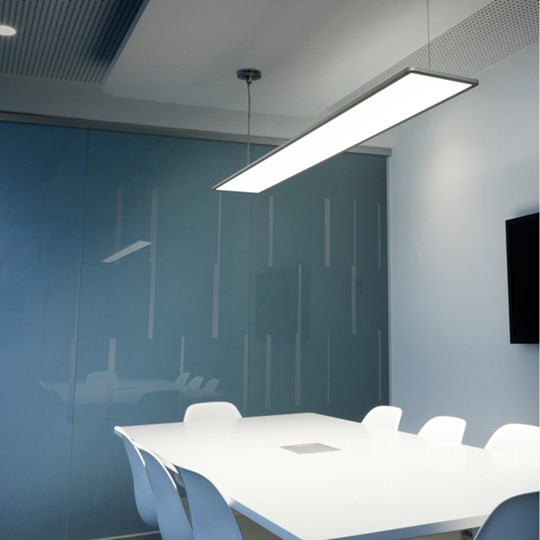 A wide family of general lighting luminaires with minimal visual impact due to their reduced profile, available with direct and indirect light distribution. Equipped with LED light sources that supply an optimal flow of light, great visual comfort and minimising energy losses. The Super Flat family is available in two different versions: surface and suspended and various sizes / dimensions.
TOP LED 3000/4000K CRI 80 17-52W 150lm/W