How does Power over Ethernet (PoE) lighting work?
At the simplest level, PoE lighting refers to the ability to use an Ethernet cable to power light fixtures (luminaires) and transmit data between the luminaire and the control software.
What this means is that one cable can both power and control the fixtures attached to the network. Using Igor capability as an example, when the Ethernet cable is plugged into the fixture, it is automatically powered, assigned a unique IP address and automatically discovered by the lighting controls software. Since each fixture has a unique address, this gives the user the ability to programme commands and changes into the software without having to rewire the lighting scheme.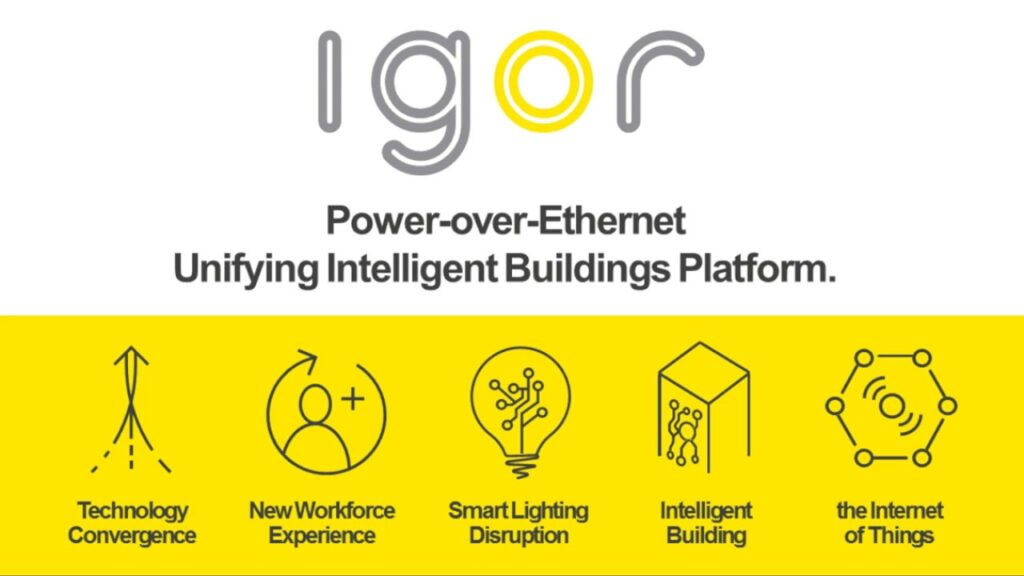 Data can be collected from attached devices – such as motion sensors – to prompt specified lighting commands. As long as you have compatible fixtures attached to the Ethernet cable, you can control dimming, timing, sensors, lighting colours, daylight harvesting and so on to maximise efficiency and comfort. What this requires is a software system, such as Igor's Intelligent Building Platform, to provide the brains behind the controls.
Global standard Cat 5/6 cable can carry the commands of the software to control the lighting fixture as well as all attached devices such as sensors and wall switches. At the same time, all the fixtures and devices can send information back to the software. This data, combined with an analytics tool such as Igor's, allows users to keep an eye on energy usage and the life expectancy of the devices, and can also transmit maintenance indicators and notify designated staff of technical problems immediately as they arise.
For more information from Igor about PoE systems, click here.
– by Dwight Stewart, CTO and founder of Igor.