Product Review: Mini Downlights for Indoor Spaces 
Mini Downlights find their usage in most of the residential and commercial lighting applications. From creating an interesting pattern on the wall to softly highlight a corner, from lighting up a planter to break the monotony of larger products, these downlights give immense flexibility to a designer. These are the essential tools when one is looking at a a small dimension emitting just right amount light unlike their bigger versions which emit thousands of lumens and look bulky in ceiling.
Here we enlist the top mini downlights available:
BonJour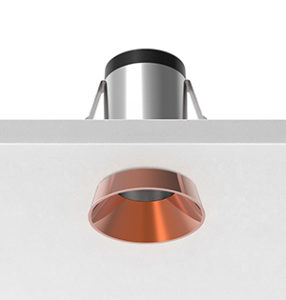 Designed by Philippe Starck this mini downlight is unique in its own way. The 10mm projected reflector looks different like none other. Available in white, chrome, copper and black finish BonJour is a smart choice for any interiors. Power LED sits deep inside and is available with honeycomb and cross screening cylinder accessories.
Manufacturer : FLOS
Wattage/lumens : 6W / 575lm (2700K)
CRI : 90
Diameter : 47mm
Laser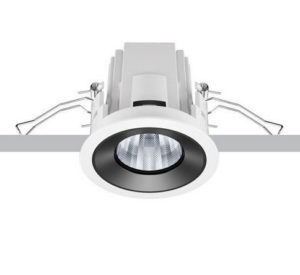 Laser mini downlight available is various painted and metal finish combinations is a mix of low glare and high performance. LED is deep recessed to give minimal glare (UGR<15). The downlight family consists of trim and trimless versions for specifiers to choose from.
Manufacturer : iGuizzini
Wattage/lumens : 7.3W / 570lm (2700K)
CRI : 90
Diameter : 67mm
Turis Mini 1.1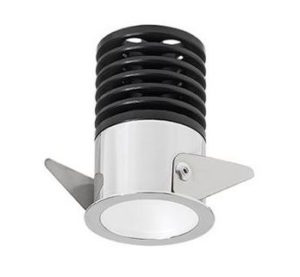 Indoor recessed LED downlight ideal for general lighting. Featuring a simple and elegant design, Turis line brings maximum efficiency together with a soft, diffused light, ensuring optimum visual comfort. Turis family is wired to high efficiency drivers with active PFC.
Manufacturer : Luce & Light (L&L)
Wattage/lumens : 5W / 310lm (2700K)
CRI : 80+
Diameter : 44mm
Micro Rio
This mini downlight with organic from presents a soft look to the space it is installed in. The design of these recessed conical spots deliver a hardly visible transition from the intense light with the ceiling, resulting in a aureole effect and giving the space an extra dimension.
Manufacturer : Deltalight
Wattage/lumens : 6W / 698lm (2700K)
CRI : 90
Diameter : 54mm
Aplis 40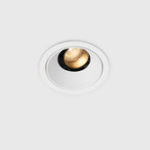 Aplis is a directional mini downlight available in varied colof options and beams. This downlight provides maximum manoeuvrability and is ideal for general lighting scenarios and applications. The  outer frame provides an added advantage during installation and maintenance.
Manufacturer : Kreon
Wattage/lumens : 2W / 200lm (2700K)
CRI : 80+
Diameter : 50mm