Product Review: Cove Lighting
There are numerous cove lighting solutions available in the form of aluminium extrusions. These are of varied shapes and dimensions to suit any shape of ceiling/wall and room configuration. Some cove lighting systems are plastered in and require skilled installation team whilst other systems are simply fixed to the surface of the walls or ceiling.
This review includes a wide variety and style of luminaire which can illuminate a cove. Some luminaire types will be more suited to your particular needs and application than the others.
When deciding which cove lighting system to choose from, one of the first things to consider is whether you want to produce a simple glowing line of light in ceiling or whether you want sufficient light output to give a useful level of illumination in the space.
Achieving uniform lines of light and a smooth gradation of brightness, is also very important. You need to avoid "hot spots" or " dark spots" although this can sometimes be overcome by locating the LEDs quite some distance from the illuminated surfaces. Matt finishes of the ceilings instead of glossy surfaces help minimise any "spotting" in cove lighting.
Next thing to consider is the color temperature. This vastly is dependent on the ceiling materials and their reflectance. White painted plaster ceilings usually look good with 3000K and 4000K. For coloured surfaces, careful consideration has to be taken so that the final color achieved is in line with the requirement.
Lastly, consider whether you need accurate colour rendering. For most applications, a CRI of 85+ is sufficient, but some of the cove lighting systems offer a CRI 90 or even higher. These are especially useful for retail applications.
Also are now available are tuneable white solutions for coves which gives you an option to change to color temperature of the space and hence the ambience altogether.
Cove lighting can make an important difference (good or bad) to the appearance of a space so a trial or mock-up is recommended before ordering.
PROLED H Profile
This system is ideal if your existing space does not already have a cove built in. The system comprises of a wide range of straight and bendable galvanised steel profiles in various dimensions. The profiles are then fixed to the structure of the building and plastered over.
A flexible LED strip suited to that particular profile can then be quickly fitted in position. The LEDs are offered in a range of different sizes and outputs.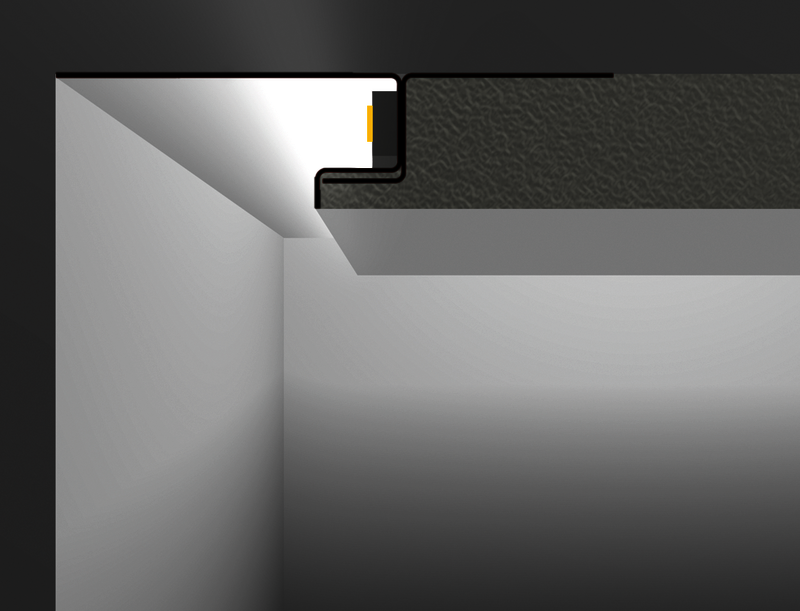 Deltalight Tagline Trimless Wall
This is a slim, recessed and trim-less aluminium profile with an integral strip of LEDs. The Tagline is only 9 mm from the wall so it is almost invisible when switched off. When illuminated, all you see is a fine line of continuous, uniform light from the opal diffuser.
The system also comes with corner profiles and in addition to the linear led for perimeter lighting can house track spots with mechanical latching making it a versatile system.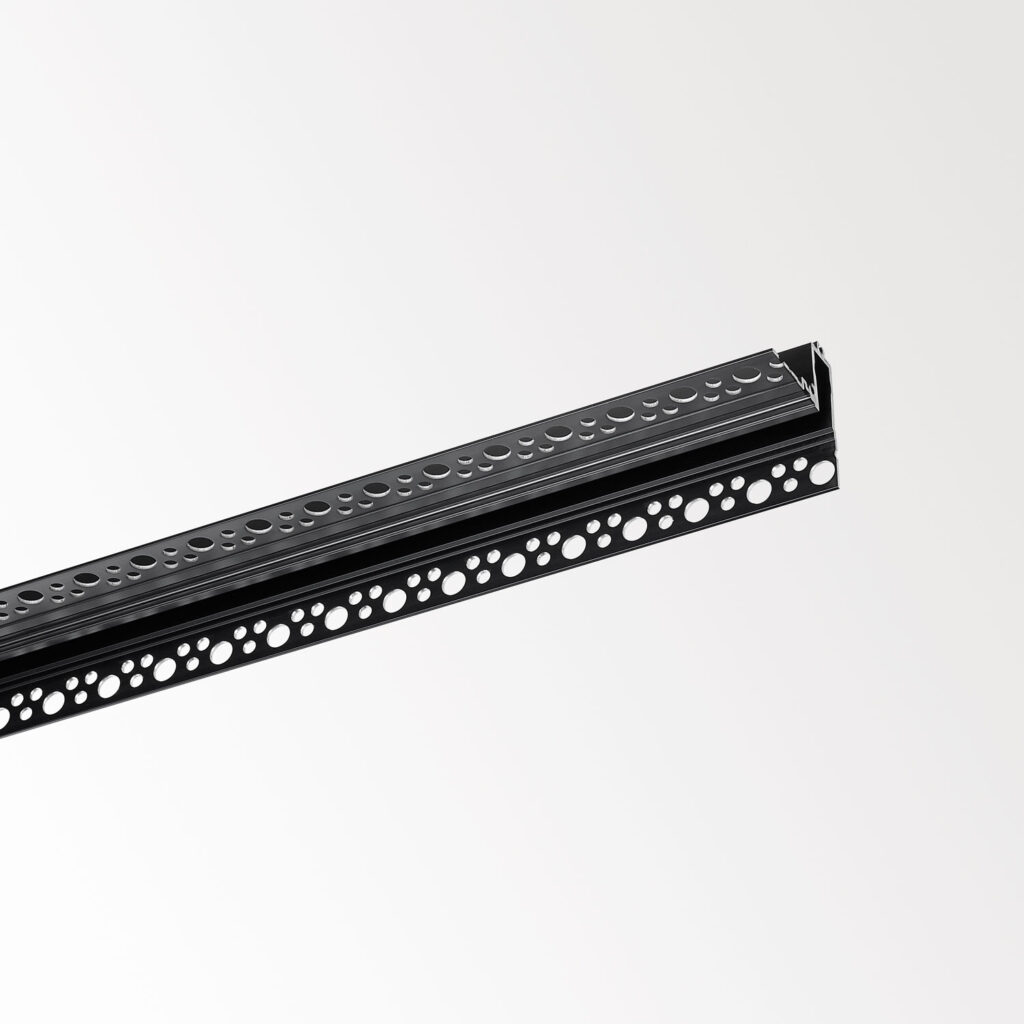 KKDC MiMi Glow
Not all coves are in the warm and dry. There is a large market for swimming pools, wet rooms and luxury spas where the atmosphere is very damp and sometimes dripping with water. These places are sometimes cleaned using hoses and these are perfect areas for the IP67 MiMi Glow 008.
There are two other features that set the MiMi apart. The first is that it is very compact and only measures 13 mm x 15 mm so you can fit it just about anywhere.
The other feature is that the light output is totally homogenous – you get a totally uniform line of light even on shiny surfaces like polished marble.
The colour rendering CRI is >90 and it is available in nine colour temperatures from 1900K to 5000K.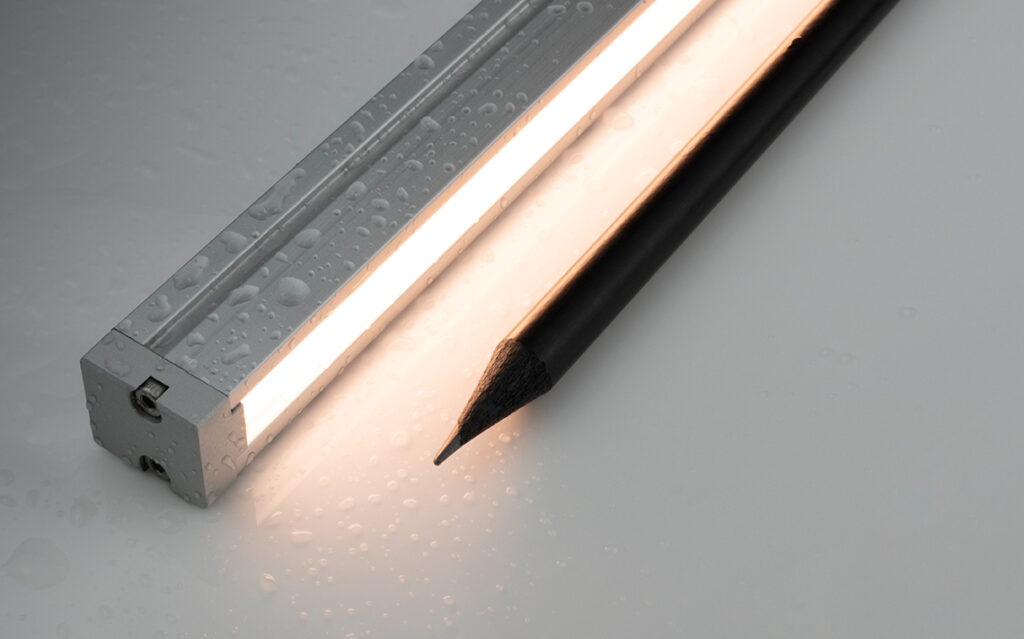 Led Flex Lumen Line HE
One of the big advantages of the Lumen Line, from the Flex range, is the high lumen output coupled with excellent colour rendering. We looked at the 2700K version which emits over 2,277 lumens/m at 23W and has a colour rendering of CRI 96.
This type of performance makes it ideal for retail and hospitality applications. Like most flexible LED tape, it comes supplied with adhesive backing tape.
We should point out that LED Flex has a huge range of flexible tape available and we chose this simply as an example of high output combined with excellent colour rendering.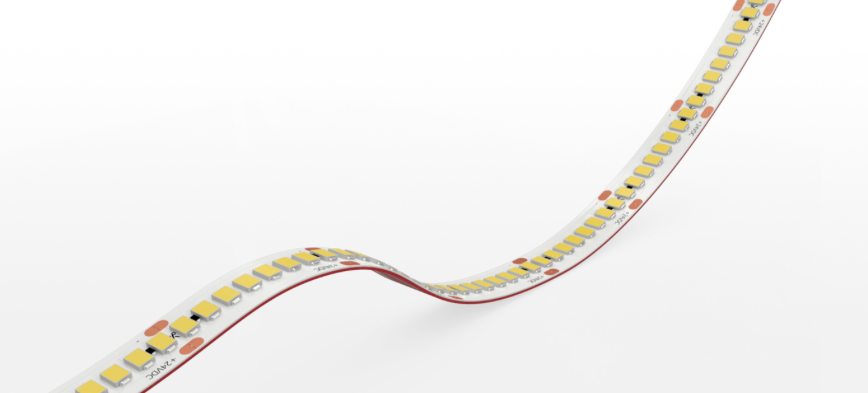 Led Linear Xoo Cove
The Xoo Cove has several unusual features. The main benefit is the ease of installation. The luminaire, itself, is circular but instead of the usual fixing clips it rests on grippy silicone pads. These pads are about 50 mm square and 25 mm high and can be placed anywhere in the cove. The pads have a semi-circular channel in them which holds the Xoo at any rotational angle you wish.
The other main feature is the wiring system which doesn't require the use of tools to connect the luminaires to the 24V supply cable. The electrical connection is made by little clamps which pierce the luminaire and supply cable insulation.
The light output of the Xoo is higher than most systems at around 2,950 lm/m.
Linealight Fylo
Linealight has a huge range of extrusions for producing both direct and indirect light all under the family name of Fylo. Some of the extrusions are straight and others are curved. There are surface mount, recessed and plaster-in versions available. Some are wafer thin slots and others are fairly wide.
The sample we saw was the Recessed 4 and this is almost semi-circular in shape with the LED strip mounted low down on one side. The effect is that of a continuous mini "barrel vault". The LEDs cannot be seen and the matt finish reflecting surface gives a smooth glow to the extrusion.
Generally, the LEDs are available in 2700 – 4000K but an interesting variation is tunable white which ranges from 1800 – 3000K.
Plus Light Tech Dione
Plus Light Tech offers cove lighting system which is interconnectable. The fixture is available in 300/600/900/1200mm lengths 27 mm in dia. The system sits on mounting clips to be fixed on to the ceiling and then can be rotated to get the desired effect. Fixture can be connect and linkable to desired diffrent length for both single CCT and Tunable white application max up to 6 Meter.
A big advantage of this system is that the LEDs inside the fixture are available with CRI >90.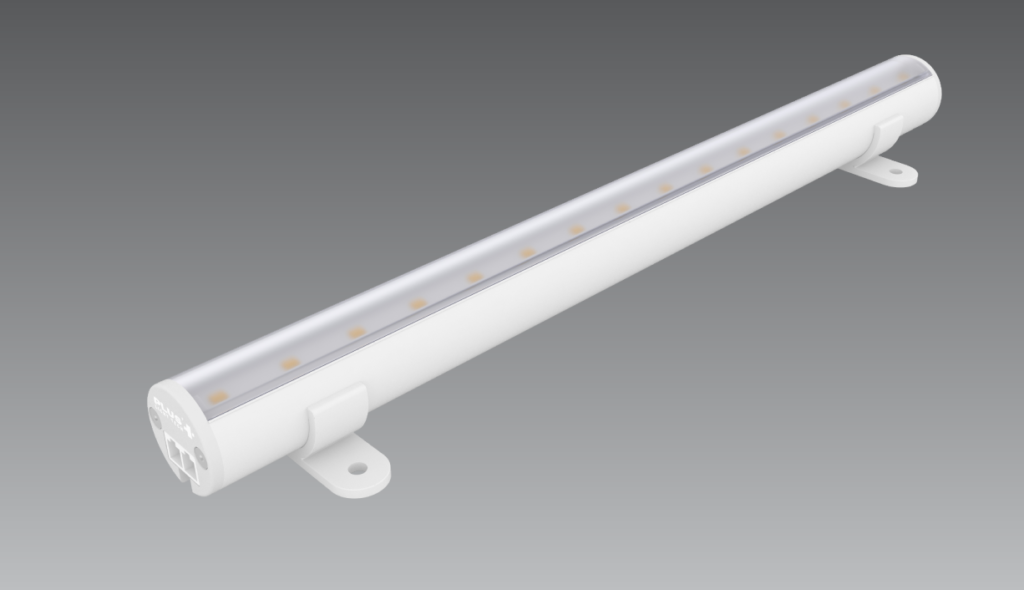 Color Kinetics EW Cove
eW Cove MX Powercore delivers the highest light output in the line of solid white linear cove lights from Color Kinetics with upto 696 lm/feet. eW Cove MX Powercore can be used for accent lighting and indirect general illumination, as well as the full range of wall and ceiling cove applications.
Ew cove family from Color Kinetics offers maximum number of options to choose from in terms of lumen output, color temperature as well as CRI. The inter connected system offers ease of installation as well as management with lighting controls.