The "unseen" truths of Light
– by Girish Bhardwaj
Here is my compilation of one & a half years of studies from various sources like watching video-conferencing of many doctors and researchers across the globe on Lighting subject, books like – "Going somewhere" by Dr. Jones, studies of Dr. Wunsch, my friend Dr. Vivek Sharma.. and many.
I have pruned my 200 pages of notes taken from all these resources and compiled in one ppt/for us all to share whatever I could in the best of my abilities and capabilities
I believe in one famous saying: Excuses are the nails to build the house of failure… I do not want to give an excuse to myself that why I cannot contribute towards the lighting industry. Thus, this being one of the ways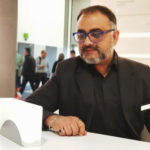 About the Author

"Attitude determines the Altitude" has been the mantra for Girish – be it his profession or life on the whole.

Presently, working as National Manager for Simes, Italy – one of the premium Outdoor Lighting manufacturers globally, he has been the driving force for spreading & nurturing the brand & its value in India & other countries.

His passion for lighting technologies / applications has further stretched his exposure and understanding of various factors about light affecting human beings, biologically.