Tunable White LED Lighting
Tunable white LED Lighting is one of the latest and most happening trends in the lighting industry, with dozens of manufacturers producing varied types of luminaires with this technology. Let us understand here more about this technology and how these products differ.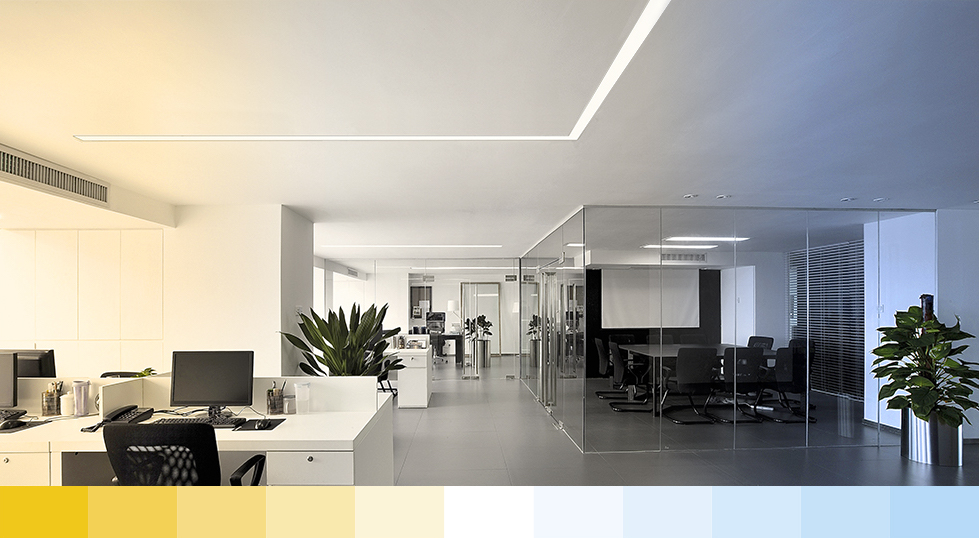 Tunable White – Concept
In the simplest terms, tunable white refers to the variation in the color temperature achieved by different control methods in the same LED luminaire. The most common type of tunable white luminaires have a smaller range of 2700K-4000K which are used in small downlights for accent lighting only.
While the more sophisticated systems offer a wider spectrum 2700K-6500K or even more. The most notable feature to lookout in tunable white LED lighting systems is a shift in color rendering of the luminaires with the color variations which can be read from the manufacturer's spec-sheets.
Tunable White LED Lighting systems
There is a wide variety of tunable white led systems available. The most basic ones incorporate two rows of LEDs – one 2700K and the other 6000K placed next to each other. With the diffuser placed, the colors mix up (will sort of) and the basic functionality is achieved.
Then there are certain systems with chips of two different colors are mounted side by side and the color mixing is achieved. These are more popular in flexible LED strips mounted in aluminum extrusions.
The sophisticated systems use chips of different color temperatures combined into the same LED module providing the opportunity to miniaturize the size and hence to be used in downlights and spotlights ensuring better performance than above systems.
Controlling the Tunable White Systems
The most basic systems involve switching over from one color temperature to other in the same luminaire. The advance systems use multiple channels controlled over DALI and also include dimming which are further integrated to either manual control via touchscreens/phones/tablets or automatic programs tuned to circadian rhythms according to the application area as desired.
Conclusion
While the very nature of lighting itself is dynamism, we have over time been tuned to live, work and relax in more of a static artificial lighting indoors & outdoors. Tunable white gives us a good opportunity to make indoor spaces more natural and tuned closer to nature. The research shows it surely makes us more human and normalizes our circadian harmony. Good tunable white products will surely add more substance to this concept and take us beyond static artificial lighting enhancing both mind and spaces.