What next after LEDs? Welcome tho the world of Connected Lighting
-by Devashish Ganguly
Today, we are on the cusp of an augmented age where technology is redefining the possibilities of what a human can truly be capable of. Sensors, networks, Artificial intelligence, Robotics, digital manufacturing, Nanomaterials, 3D Printing, Augmented reality, Machine Learning, Big Data and Connected Lighting are rewriting the rules in Lighting Industry.
The Changing world order as seen today
Most are familiar with the invention of the steam engine in the late 18th century, ushering in the age of mechanization that released people from dependency on domesticated animals for production. This paradigm shifting change is known as the First Industrial Revolution. The second revolution took place around a hundred years later when the availability of electrical energy coupled with division of labour made it possible to mass produce items on an assembly line – the prototype of the modern factory. The third such transformation occurred when computing power enabled automation in the production process. The latest or Fourth Industrial Revolution, which some have said is an extension of the third, involves the integration of various technologies combined with artificial intelligence to enable inanimate objects to communicate resulting in a profound acceleration in progress.
Industry 4.0 will continue to be driven by connectivity solutions that don't stop at Smartphone's. Software will disrupt most traditional industries in the next 5-10 years. This evolution indicates a tectonic shift in technology from electrical to electronics.
What is in Store for the Lighting Companies & the Job Market?
In turn, this may represent a significant growth opportunity for companies offering connected LED solutions. With LEDs dominating the mainstream, the next emphasis in the community is 'connected lighting'.
Connected Lighting thus will be the next disruptive force to reckon with.
Thus most great new enterprises in the years to come will either build their businesses off new sources of information or by converting previously analog environments into digital information. Information will the greatest asset of any Company. More reliably than any other asset, information has the potential to double regularly. Rather than simply assembling assets, the key to success is accessing valuable caches of existing information
Thus, the true job enabler's will be the digital savvy individuals. To start with first embrace will be from the HR department.
Due to accelerated change, work experience will prove much less important and tilt will be for employees who ask the right questions.
Today and future scenarios it is not the big fish which eats the small fish it is the fast fish which eats the slow fish. Thus, for veterans It is also about (un)learning and adaptability and in sync engagement, determination, curiosity, insight and risk literacy (statistics). Google labs Recruitment and team formations is based on DNA profiling (suitability for the job based on particular hormones, neurotransmitters and health risks) and neuro profiling (right attitude, emotions, focus, truth-telling, passion, avoiding cognitive bias). Artificial Intelligence will recommend which people should work together and how to form teams for different tasks.
What's in store for the lighting industry?
According to a new research report by Global Market Insights. Inc Smart Lighting or Connected Lighting Market is predicted to be valued at USD 24 billion by 2024. The smart lighting market growth is attributed to worldwide initiatives for smart city development and the growing popularity of home and building automation systems in residential, commercial, and industrial sectors. As the modernized smart city infrastructure offers intelligent connectivity among different components of the administrative framework such as transport, healthcare, and law & order, further initiatives for developing smart cities are likely to be undertaken aggressively around the world over the next one decade.
The communication technology market is expected to exhibit excellent growth between 2018 and 2024 due to rapid advancements in wireless communication technologies such as LPWAN, Wi-Fi, and hybrid technologies. With the increasing popularity of highly interconnected IoT-based smart city ecosystem, these technologies are expected to play a critical role in enabling such intelligent and data driven infrastructure. In the light control market, sensors are expected to exhibit the fastest adoption over the forecast period. This accelerated adoption can be attributed to technological advancements in different types of sensors, such as occupancy sensors and motion sensors, which enhance the ability of smart lighting systems to effectively react to the surrounding conditions. Also, as these sensors enable remote operability of lighting systems through mobile devices, their utility in connected lighting solutions is likely to increase substantially over the forecast timeline.
Brief about LPWAN
LPWAN stands for Low-Power Wide Area Network, a wireless network designed to efficiently connect smart devices across long distances, usually through a low bit rate. LPWANs are ideal for IoT devices that don't need to manage large amounts of data, or for circumventing more expensive gateway technology. This can include smart meters, consumer products, and sensors. The overall value of the LPWAN market is expected to reach $25 billion within 4 years.
LoRa and NB-IoT is widely used and both operate within LPWAN technology. They are two major standards for low-power IoT devices.
The LoRa Alliance developed LoRa in 2015 as a secure, energy-efficient IoT standard that makes it easy to onboard new devices. LoRa is shorthand for Long-Range (WAN) and is a modulation technology for LoRaWAN. LoRaWAN is a related set of low-power specifications for IoT devices. LoRa and LoRaWAN are not interchangeable terms; LoRaWAN refers to a LPWAN protocol standard and is not a technology in and of itself. LoRa defines the physical layer. Its security standards emphasize end-to-end encryption, data authentication, and intelligent key derivation.
NB-IoT is an abbreviation for Narrow Band IoT, a cellular standard developed by 3GPP. NB-IoT is not a standalone technology, but a cellular standard that aims to standardize IoT devices to be interoperable and more reliable. It can be implemented in a standalone or in-band spectrum manner and does not require gateways, while each LoRa device needs a gateway to function (which can affect total cost). NB-IoT connects base stations directly with sensors.
Why the need of Smart Lighting ?
Just as no one buys a smartphone based on its ability to make phone calls, future buyers of smart-lighting will not be buying lights for their ability to produce illumination. They will be buying into an ecosystem of applications and services that have absolutely nothing to do with light. You will find lighting intersecting with adjacent industries like security, sensing, big-data, and even advertising.
Welcome To the world of Smart Connected Lighting and its exponential possibility. As lighting systems get smarter, a vision of autonomous, self-commissioning illumination systems is emerging where illumination plays an active role in managing human health and well-being, improving worker productivity, providing wireless communications, and improving building management system operation.
Big Data
"Light bulbs are destined to become an essential fixture in the IoT revolution"
Industry 4.0 will continue to be driven by connectivity solutions that don't stop at smartphones. Sensors too have become more accurate and efficient. They consume less power, can detect greater ranges and can often be connected wirelessly to other devices to form a network that can monitor everything from one end of the business to the other.
Data will be of Immense Importance and Internet will be life line.The Internet is now the world's nervous system, with our mobile devices serving as edge points and nodes on that network. Think about that for a second: we'll be jumping from eight billion Internet-connected devices today to fifty billion by 2025, and to a trillion a mere decade later. Ten years ago, we had five hundred million Internet-connected devices. Today there are about eight billion. By 2020 there will be fifty billion and a decade later we'll have a trillion Internet-connected devices as we literally information-enable every aspect of the world in the Internet of Things. Suddenly everything that is a lie is the truth, and everything that is true is a lie. The world is now being divided and defined differently. The second great disruption is Technology. The pervasiveness of the Internet is transforming the way we eat, live, shop, travel and even the way we interact with each other. It has given rise to the sharing economy. This collaborative consumption, a hallmark of the millennial and we have plenty of them, has changed the way we exist.
Google, Facebook, Linkedin all muti-billion dollar Company a result of digitizing our relationships and , turning them into information. Industry veterans believe that most great new enterprises in the years to come will either build their businesses off new sources of information or by converting previously analog environments into information. This revolution will be labeled Big Data. By combining vast stores of data with powerful new analytical tools, there is an opportunity to see the world in a new way—and to turn the resulting information into new business opportunities. This is not just static information. It is also dynamic information—data that registers the natural world not simply as it is, but as it changes. Thus, the 5P benefits of big data: productivity, prevention, participation, personalization and prediction.
Need of Smart Cities & Future
Trends shows Small Towns will soon be urbanized. As per estimates, about 25–30 people will migrate every minute to major Indian cities from rural areas in search of better livelihood and better lifestyles. With this momentum, about 843 million people are expected to live in urban areas by 2050. To accommodate this massive urbanization, India needs to find smarter ways to manage complexities, reduce expenses, increase efficiency and improve the quality of life.
As municipalities grow and urban population expands, city officials are feeling the pressure to invest in IoT pilots and programs. By adding embedded intelligence to its assets, cities can create a working framework of modern, cost-effective technology that gathers data and can ultimately improve the quality of life of its citizens. In addition, every city, regardless of size, wants to have the moniker of being a smart city. With transportation, energy, safety, water and air quality issues that could all benefit from smart technology upgrades, the first question is often, "where should we start?
Experts and Trade pundits show why street lights can pave the way for other citywide IoT projects:
a) Street lights represent a substantial portion of city energy budgets, up to 40 percent.
b) Smart street lights can save 50 percent to 70 percent of this cost by dimming when activity is low, which means the city saves big money. These savings can be used to reduce city expense and to fund future initiatives while offering the utility a chance to increase its asset base at the expense of energy costs.
c ) Networked LED lights or connected lighting can provide not only energy savings, but information about outages or other anomalies in the energy network.
d) Lights can be remotely dimmed to reduce energy usage. Networked lights can also be managed by smart devices that adjust lighting in response to traffic patterns and help identify roadway hazards.
e) Networked lighting systems are also seen as a viable platform on which solution providers can build future sensing, data gathering and communications capabilities. For example, connected lighting can communicate with video cameras, parking sensors, environmental sensors, weather sensors and more through same network infrastructure.
Future
Smart Street Lighting has much more in it and future will evolve into something highly illuminating. We are debating and discussing thus Light beyond Illumination. Next phase of transformative technology advances, wearable and implanted devices will unlock human potential by tapping into our mood, heart rate and thoughts! Welcome to the brave new world of Augmented Humanity (AH). In Japan and China, a concept Lights-out manufacturing is gaining momentum.
Lights-out manufacturing refers to factories that operate autonomously and require no human presence. These robot-run settings often don't even require lighting, and can consist of several machines functioning in the dark. While this may sound futuristic, these types of factories have been a reality for more than 15 years. So, we are talking beyond illumination.

Author: Devashish Ganguli, Havells India Ltd. (Views Expressed are Personal). Credits: Bloomberg Report, Exponenetial Organization Salim Ismail, Kranti Nation Pranjal Sharama, Reports from Internet, E&Y Report Smart Light Market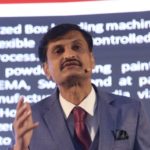 About the Author:

Leadership is all about impact you make on the trade, influence the consumers about your technology and inspires team members to add value to their careers thereby building a Brand. Havells India is where Devashish has been driving this philosophy.

Presently as National Manager Enterprise business in over INR 8000 Crores Super Brand and among the fastest growing Indian MNC has been a long and satisfying journey. Joined Havells in 2013, since then setting one goal and achieving it relentlessly and moving on to another has been more of a daily habit, than a ritual.

He sincerely feels that this journey has been achieved only with the strength of building a Team of professionals, trusting and believing in them. A journey that could truly be realised because of a trait that he developed is to understand the different shades and hues of marketing and the art of a motivational speaker blended with a perfect PR.