Latest Solutions in Workspace Lighting
Workspace Lighting includes an intelligent mix of function & asthetics which has to be part af any workspace. Office and workspace lighting broadly contains different types of lighitng elements ranging from pendants, ceiling recessed systems and downlights to freestanding luminiares and even decorative lighting fixtures. With the rapid advancement in LED technologies and smart lighting these luminaires are transforming the way the office and workspace lighitng is designed.
Here is our selection of latest workspace lighting solutions for different applications.
Freestanding Luminaire
Zumtobel Linetik
Zumtobel's freestanding Luminaire Linetik for workspace lighitng is a slim LED luminaire having a cross-section of 25 mm x 25 mm of the head and a compact mounting base. The glare free optical system delivers light where it is needed and has individual control of direct/indirect light. The fixture delivers high output of 110lm/W and has an optional SensControl with individually controllable brightness & motion sensor.
2. Pendant Row Lighting Systems
Regent Purelite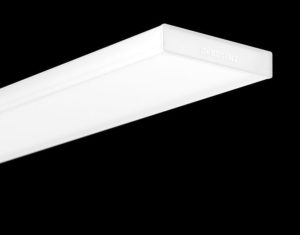 Regent Purelite pendant row lighting systems have ultra-flat design with a height of 35 mm. The indirect light component of the luminaire delivers 3100 lm per 1.2 metres and is suitable for general lighitng application in workspaces. The highly innovative plug-in system already contains wireless throughwiring for quick and easy wiring. Besides offering a high degree of flexibility with a host of mounting accessories, Purelight guarantees ultra-flat, uninterrupted, shadow-free lines of light for workspace lighting.
XAL Mino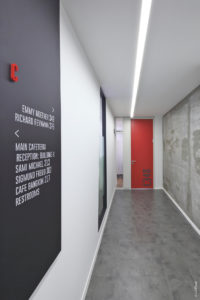 XAL Mino 60/100 linear continuous pendant have a minimalist form and function for workspace lighting. Fitted with high energy efficient LED systems, XAL Mino offers tunable white versions in addition to the standard color temperature. Mino offers High Performance Opal cover for uniform illumination; with increased transmission and diffusion; micro prismatic PMMA diffuser incl. diffuser film for homogeneous illumination and reduced luminance; and is screen work capable luminaire as per DIN EN 12464-1 (UGR < 19).
3. Ceiling Recessed
Wipro IRIS LED Downlight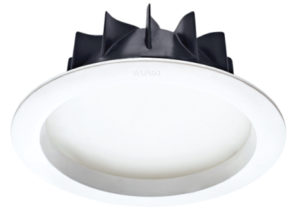 Wipro Iris High efficiency circular LED downlighter combines to deliver energy efficient workspace lighting solution reducing the Light Power Density (LPD) to meet the lighting standards. It is fitted with new generation, chip-on-Board (COB) LED technology with enhanced efficiency with higher lumen/ watt (>100 lm/W). It's specially designed wave-shaped radial heat sink ensures effective thermal management enhancing life of the luminaire.
Trilux Arimo Slim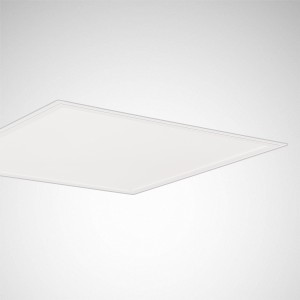 With only 20 mm height, Trilux Arimo is the ultra flat refurbishment and energy efficient solution for planar lighitng. It can be laid into existing ceiling grids with just a few twists of the wrist, and with plug and play connection to the control unit. Once installed, the Arimo Slim CDP LED ensures outstanding work atmospheres for workspace lightng. The light output is homogeneous and glare free, spreads light over a wide area and has no shadows.
4. Cove Lighting
Luci Power Flex THOF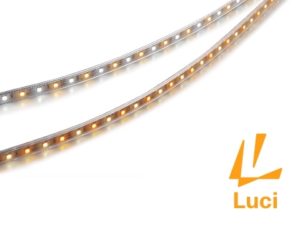 Luci Power Flex THOF is a perfect solution for cove lighting for workspace lighting. It comes in two tunable white options 1900K-3000K and 2700K-5300K which can be used for varied appications. It is available with various mounting profiles and accessories to be installed in different types of ceiling details.